That's right everyone!! Today is my SITS Day!! Welcome SITS-tahs to my awkward corner of the blogosphere!!
For those of you who don't know what a SITS day is what in the world I am talking about, allow me to explain: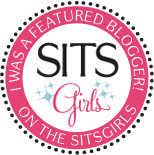 The SITS Girls is a community of over 40,000 women who come together to support one another in our blogging adventures. I have found so many fantastic blogs from this community, from other humor bloggers, to great recipes and DIY ideas, and some just plain, old amazing life stories!! I love this community and I'm so excited to be their featured blogger today! So please, sit and stay a while! Explore the blog and laugh at my embarrassing stories!
Also, I just wanted to spread the love today, because I'm so overjoyed, so here are some of my other favorite bloggers that are worth checking out:
 The Life I Live... So You Don't Have To!
Thanks so much for visiting!!